Concrete gutters including Finlock concrete gutters usually start to break down after 30+ years. Water eventually finds it's way through the mortared joints and in most cases water seeps behind the concrete gutter causing damp inside upstairs bedrooms.
There are many weird and wonderful ways people have tried to seal these gutters up. Lead lining, tar, roof sealant, DIY kits from the internet but only providing a short term solution despite the high costs incurred. We have actually seen a concrete gutter that was repaired so many times by different contractors that it was actually 70% full of repair compound with no room for the water!
We are installers of concrete gutter liners using a thick grade EPDM seamless liner giving you a minimum life expectancy of between 20 and 50 years. We do not simply lay a liner in your gutter. We strip off many rows of tiles including removing hip tiles and laying one large liner up to two metres wide along the whole length of concrete gutter leaving you with bone dry gutters and bedrooms. All the gutters are cleaned of debris and all previous repair solutions giving you the same water capacity as when the gutter was installed. All corner and mitred joints are treble sealed using an overlap system making the liner physically impossible to leak. Specially fabricated outlets are fed through the downpipe hole of the concrete gutter ensuring no water can penetrate anywhere. All work is carried out off our own scaffolding that comes when we come and leaves when we leave. An average 4 sided house takes 4 days so you can see the work we put into it.
Make Mw Roofline your choice of Finlock concrete gutter liners. We can carry out concrete gutter lining jobs anywhere in the UK and we promise your gutters will be 100% watertight. Please email us today for a quote.
After many hours we finally removed all the old lead and Fibreglass that had been poured into this gutter over the years to try and repair it.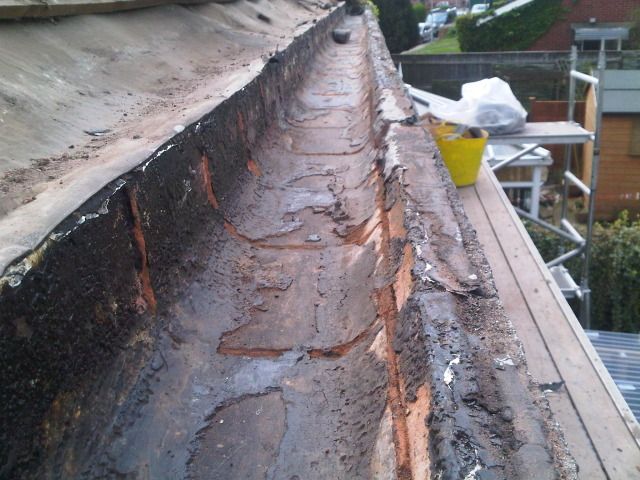 Here the membrane is glued to the concrete using a solvent based adhesive. As the existing roofing felt was in good condition we only needed to use a one metre wide membrane on this installation.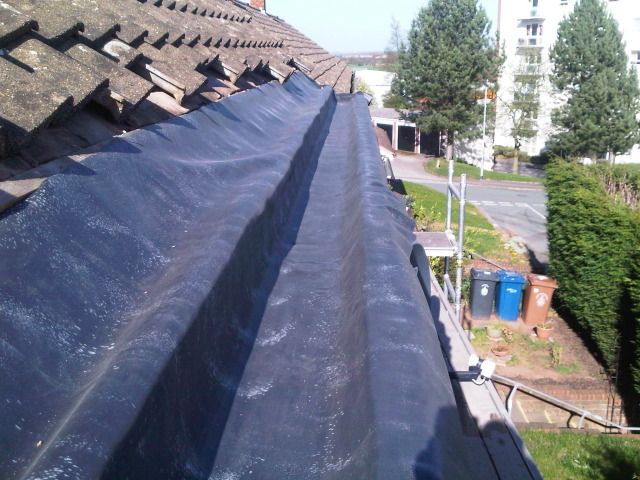 Once the glue is set the tiles are put back into place and the front of the gutter finished off with either a white or black powder coated aluminium trim. Anti bird stoppers are also installed as well as leaf guards above the drains.